ADD YOUR BUSINESS TO TRULIA TODAY
Get more visitors to your business.

Trulia, founded by Pete Flint and Sami Inkinen in 2005, is headquartered in San Francisco, CA, USA. Trulia is an online and mobile friendly real estate platform for the people who are searching for a home in U.S.A. by providing them the insights they need to have for making a well informed and right decision. Not only it provides an insight of buying, selling and mortgaging information but it also provides information such as school ratings, crime scores and the commuting time to know how it is to live in the neighborhood you have selected. Trulia is a fully owned subsidiary of Zillow group. It connects the users or customers with agents that give them the full information they need answering their queries and help them to make the home search process very easy. Trulia also has mobile apps 'Trulia Real estate app', 'Trulia Rentals app', and 'Trulia Mortgage app' which are available for both apple store and Google play store.
Which category does Trulia help?
Trulia is an online real estate directory for home buyers, renters, sellers and mortgagers in USA. It provides a list of properties or houses available for buying, renting or sale along with the information and tools needed for an easy process of home searching. It provides information on new homes and rentals that come-up in the market giving the price history and other insights like how it is like to live in a neighborhood. If you are confused whether to buy or rent a home, then you can ease up your confusion through their rent v/s buy calculator, calculating the net costs for both the options. It also offers the facility of mortgage calculator, Affordability calculator, and refinance calculator. Users can easily calculate the costs they want to without any complications. Users get professional guidance for making the home search process easy.
Get Premium Listings
How can Trulia help your business?
"As a real estate professional, Trulia can be very useful to you. You can see stats and trends of the market on their website. This Real Estate Guide provides information on home sale price trends, local information and sales statistics in U.S. It also provides business solutions to the professionals through their expert guidance. Sellers can submit their data feed and listings for free including video and unlimited photos. Your listings can go live on Trulia in 15 minutes. It offers real-time leads from the people who are interested in your listings by providing free exposure to millions of people who are home searching. Not just that, it also provides report on the views, leads and clicks for all the listings be it for sale or rentals."
Sign Up For Free
Steps to add business to Trulia
Step 2: Fill in the details or sign up through Facebook or Google.
Step 3: your account is created.
Step 4: Customize your profile as per the information required thereafter.
Step 5: You can now start submitting the data feed and listings for sale or renting.
If you are a user: Step 1: log on to www.trulia.com and click on 'Sign in' on the top right panel.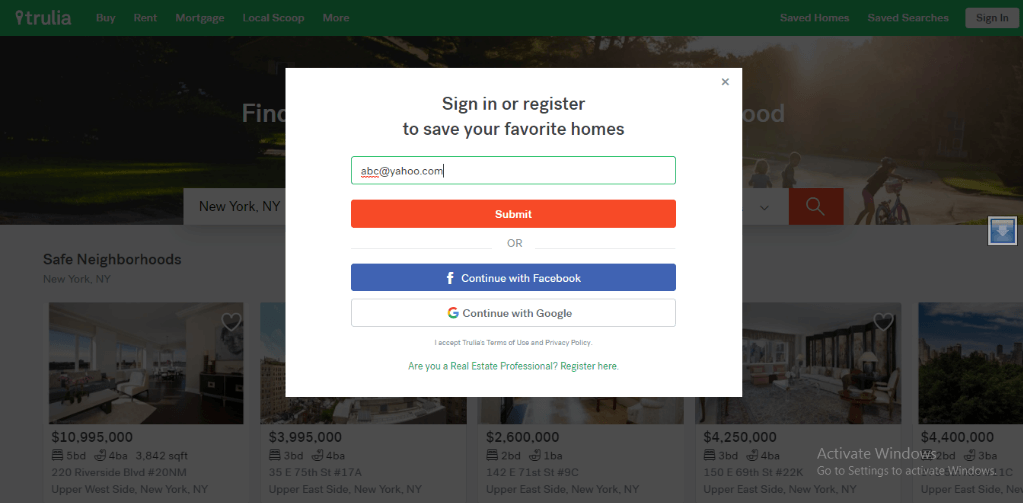 Frequently asked questions about Trulia
Is it a free/paid directory?
It is a free directory both in terms of users as well as professionals. Professionals can submit their sale and rental listings on Trulia for free.
Does it have listing specific to categories or location?
Yes! Trulia certainly is location and category specific. Users can select whether they are looking for renting, mortgaging, buying or selling, searching by zip code for the area they are doing a home search. You can also categorize as per the number of beds you need.
Does it contain premium listings?
All the professionals can submit their listings for free to Trulia, but however, if you wish to know about premium listings, you can contact their customer support for the same.
Can we do display ads in this directory?
Yes! The advertisers can do display ads on this directory. The agents or brokers can advertise their listings on the website.
Can we add a business description like keywords, Metas, year, employee count, payment methods, menu cards, etc.?
The advertiser cannot include marketing keywords in their ads however Third Party Ad Server tags will be implemented, whenever applicable so that they are functional in all the aspects.
Does it have a verification process for adding or editing a business?
Yes! There is a verification process for adding or editing a business. When you submit your listing, checking availability through Zip code, then you will be contacted by their agent for further queries and verification process